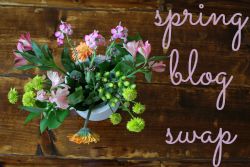 Stormy at
Life's a Dance
and
Katie at
Tomorrow, with a smile
have created a Spring Blog Swap and I jumped at the opportunity! Two blog swaps in one month? I was feeling ambitious! :)
This month I was partnered with Brittany from Chronicles of a Mrs. whom is actually expecting and soon to be a "Momma" in the next couple months. We emailed frequently, chatting back and forth and writing novels to each other. :)
Here is what I received from her, for our Spring Blog Swap:
A beautiful card with a written letter inside.
Picture frame, waterfall scented tea candles and a birdie candle holder.
Office supplies! This girl can never have enough! sticky pads, paper clips and magnetic note pad.
A calla lily plant kit! SUPER EXCITED FOR THIS!
And some spring decor, this will be hanging from our front door soon, once the white stuff finally disappears for good! :)