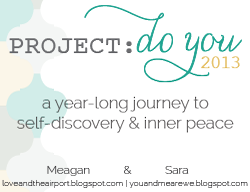 So I'm a couple months behind, but I just came across this fantastic linkup with Sara from You.And.Me.Are.We and hope you join in the fun too. On a bi-weekly basis, you update yourself and what you are doing to enjoy yourself and goals/thoughts you had in mind for yourself throughout the year.
+ Unplug for a weekend (no electronics)
+
Start my Project Life Scrapbook and continue it on a weekly basis
+ Get back into drawing/sketching
+ Be more outgoing and talkative with other I don't know that well
+ Finish the books I started (including ones on my kindle app)
+ Paint on a large canvas, an abstract painting
+ Remind myself to not worry so much about bills
+ Find motivation in the morning to spend more time on my hair/outfit
+ Live for the moment, and stop being so serious
+ Travel a couple of weekends to touristy places in Wisconsin that I haven't been to and photograph them "just because"
P
lease note that this is a link up that focuses on individual self discovery goals. The goals you see below were set
by me
and
for me
only. If you choose to link up with us, please create your own goals to work toward and to update us on. If you are unfamiliar with Project: Do You, check out
this post that introduces
the project
before proceeding.